The Fall Boot Guide for Women with Wide Calves
For much of the country, it's back to school time, and what does back to school time mean? It's officially becoming fall. And with fall weather comes fall fashion. And while, each year, I get excited about fall fashion – cozy sweaters, knits, socks, warm colors, and….boots. But inevitably, every year, getting excited about boots proves to be a depressing proposition for many women like me, those with wide calves. Knee high boots, riding boots, and even over the thigh boots have become a staple in fashion, but walk through any shoe store and you'll see women of every dress size having difficulty fitting a boot over their calf. Because wide calves aren't just for plus size women, they're actually genetic and can affect anyone.
So we at Career Girl want to help our fellow wide-calved women! Here are some incredible fall boot options to keep you fashionable and not frustrated.
Embrace the "Slouch"
Boots with a slouch are often the most versatile knee-high boots for women with wide calves. You can push them down a bit if they don't fit all the way to the knee, and they still look great.
Check out these from one of our favorite brands, Naughty Monkey.
Look for a Mid-Calf Option
Mid-calf boots aren't always easy to find, but they're a great option if you traditionally don't fit into a knee-high boot. Because they fall below the calf muscle, they'll often work for wide-calved ladies. Even trying a western-style boot can be successful.
The boot above is from Ugg, comfy and gorgeous. Get them here.
Shake that Bootie
You may feel sad that you can't find a great knee-high boot, but don't worry, booties are everywhere this season. So while all of your friends look the same with their cognac riding boots, you can find some booties that truly stand out.
Our favorites are the bootie's above from Jeffrey Campbell at Nordstrom. Grab them here.
Wide-Calf Boots Do Exist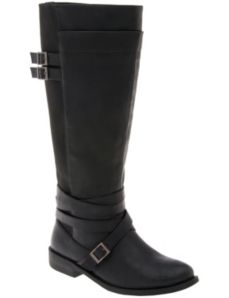 If you're searching for wide-calf boots, even if you're not plus-size, you can almost always find 1-2 options at plus-size stores. The boots above have an 18″ circumference and that great motorcycle look that's hot this year.
Click here to view these and other boots from Lane Bryant.
Custom Costs, But It's Worth It
A single site has emerged the last few years for women with wide calves for custom sizes of boots that truly fit – Duo. Duo isn't cheap, but the quality is incredible, and they make boots up to 50cm in circumference. That's a 19″ calf. Order your custom boots from Duo and you won't feel so depressed about fall ever again!
Click here to check out the boots above and more from Duo.