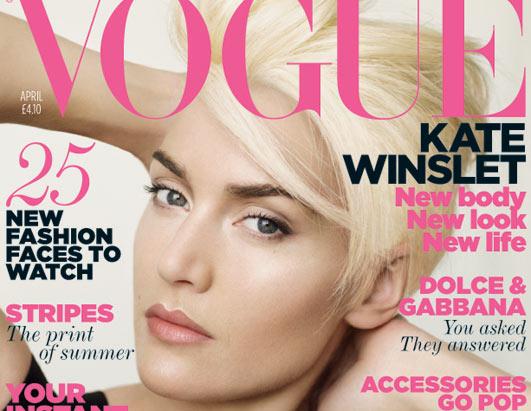 Vogue Magazine and its infamous Editor Anna Wintour are the end-all-be-all arbiters of the fashion world. But Vogue isn't all needles and thread. In its over 100 years in existence, Vogue has launched and nurtured some of the world's great artists and been at the forefront of every social movement of its time. From designers to painters to writers, editors, and actors, Vogue is a true social mecca. But in some ways, its growth has been stunted by what one can only call "hangers" that grace its pages. The Vogue woman has never been akin to the "normal" woman. Rumor even has it that Vogue asked the incredibly beautiful Kate Winslet to slim down before appearing on the cover, and the photoshopping of other voluptuous cover models has been, at times, near alien.
Fast forward, though, and Vogue seems to be stepping into a more acceptable version of the female form. Recently, "the 19 editors of Vogue magazines around the world made a pact to project the image of healthy models, according to a Conde Nast International announcement Thursday." Yahoo News brings us the full story with "Vogue bans too-skinny models" on their site.
Editors have also agreed not to work with models under 16 or those who have eating disorders. This follows a move from the Council of Fashion Designers in 2007 to impose weight minimums and health screenings for models working at New York and London Fashion Weeks. It's a huge move in the fashion community, and we can only hope other magazines, designers, and photographers will follow suit by encouraging these young models to become healthier and still excel in their careers.
Marcy Twete is the Founder and CEO of Career Girl Network and the author of the book "You Know Everybody! A Career Girl's Guide to Building a Network That Works." At Career Girl Network, Marcy provides women with information, resources, and networking to empower them in their careers and to advance the work of women in business as a whole. Prior to launching Career Girl Network, Marcy worked in numerous nonprofit organizations and as a consultant in the field of nonprofit fundraising, marketing, and community relations. Marcy is a graduate of the College of St. Benedict in St. Joseph, Minnesota, and a native of rural North Dakota. She is the Vice Chair of the Chicago Board of Directors for Step Up Women's Network in Chicago and a member of the Advisory Board for Girls on the Run Twin Cities, and is dedicated to advancing the work of organizations that move the needle for women and girls worldwide.